Return to Headlines
BOE Recognizes Facilities Department for Safety Awards
From Remarks Made by Board President Sharon Dey
at the December 20, 2016 Board of Education Meeting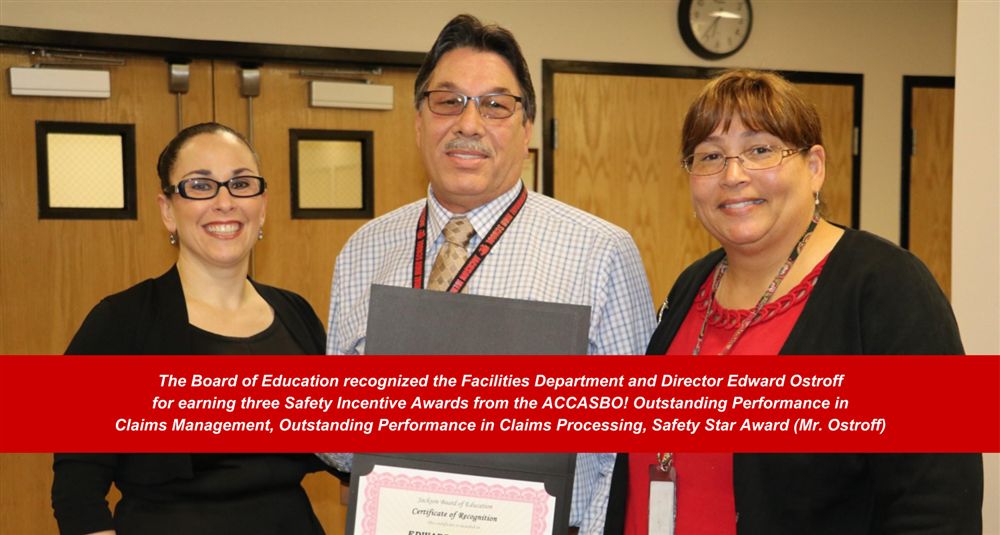 From Left - BOE President Sharon Dey, Facilities Director Edward Ostroff and Business Administrator Michelle Richardson.
JACKSON BOARD OF EDUCATION RECOGNIZES FACILITIES DEPARTMENT
Tonight it is our pleasure to recognize a department that often goes unrecognized, because they are either doing things behind the scenes … or doing things that you can't quantify because they are PREVENTING problems from happening in the first place.
Each year our insurance fund, the Atlantic and Cape May Counties Association of School Business Officials Joint Insurance Fund recognizes districts and individuals through a Safety Incentive Program.
The goal behind this program is to recognize districts that are both efficient at handling claims and who show a commitment to preventing safety issues from happening in the first place.
During their awards ceremony, the JIF explained that every claim that is avoided through safety efforts is money that can be channeled back to students. This is the key goal. To spend our precious resources where they count the most.
We are proud tonight to celebrate THREE areas in which the Jackson School District was honored through the Safety Incentive Program:
The first award is the Certificate of Excellence Award for our Outstanding Performance in Claims Management. Our award was for maintaining a Loss Ratio of 50-90% for the last school year.
The second award is the Certificate of Excellence Award for Our Outstanding Performance in Claims Processing.
So what are these and why are they important?
Loss ratio is when the percentage of dollars we spend on paying claims compared to the premiums we pay is within a desirable percentage.
It is important because having fewer claims means we are maintaining a safe environment. It is an indicator of our commitment to safety. Every time we handle things efficiently… every time we PREVENT harm, it is good for our staff, good for our morale and good for us financially, of course.
The third JIF Award we are recognizing tonight is for the man behind the team that earned us these recognitions…. For his leadership AND for earning an award in his own name.
Mr. Edward Ostroff was awarded the JIF's ultimate Safety Star Award this year, for his leadership in all areas and for his work to create and lead the district's new Safety Committee.
The creation of this safety committee has established communication among administrators, first responders, security nurse and others – basically all the people who make a difference when things go wrong in the school environment.
According to his award packet, "Mr. Ostroff has single handedly raised the bar for Jackson by promoting the safety committee's goal of promoting a hazard-free learning environment… "
And "He has earned countless praises for his efforts in successful bringing safety issues to light and keeping us all informed."
For these three awards which, by the way, also earned the district $2,250 in safety incentive awards, we are so pleased to recognize the entire facilities department and safety team.
Accepting on their behalf… and for himself for his passionate commitment to safety, it is my pleasure to call up Mr. Ed Ostroff.