Return to Headlines
BOE and Elms Elementary School Accept $10,000 Grant Award from Ocean First Foundation
From Remarks Made by Board President Sharon Dey
at the December 20, 2016 Board of Education Meeting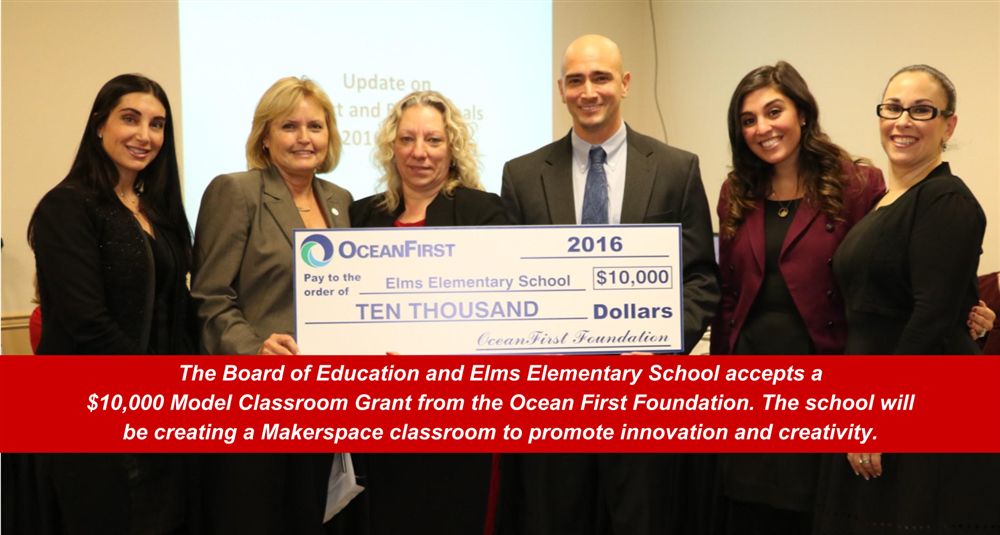 From Left, Elms Asst. Principal Dr. Lisa Lane, Ocean First Managers Barbara Wright and Lynda Dayton,
Elms Principal Michael Burgos, Elms Teacher Danielle Parella and BOE President Sharon Dey.
BOARD OF EDUCATION and ELMS ELEMENTARY SCHOOL ACCEPT
$10,000 MODEL CLASSROOM GRANT FROM OCEANFIRST FOUNDATION
We are very excited to celebrate one of our schools earning an incredibly generous grant from the Ocean First Foundation.
The OceanFirst Foundation has a history of supporting creative and inventive approaches to education. This year they awarded $150,000 to local schools as part of their Model Classroom program, which supports new technology, new tools and training for teachers.
We are beyond thrilled to share with you that the Elms Elementary School was AGAIN one of those districts chosen to receive this grant, which will provide $10,000 to the Elms school.
I'd like to call up from the Elms School, Principal Michael Burgos… Assistant Principal Lisa Lane… and teacher Danielle Parella.
It is also my pleasure to call up Barbara Wright and Lynda Dayton from the Ocean First Foundation as we accept this generous award. Your commitment to education is so appreciated. I hope you know your gift will be in good hands with the talented staff and administration at the Elms school.
As they come up, I'd also like to remind us all that this is the THIRD time the quality of our ideas and the initiative of our staff has earned us this honor. The Switlik school was the proud recipient of this grant and this is the second time Elms has benefited from this Model Classroom program.
We are so grateful to OceanFirst … and we commend our staff for working so hard to find and earn these opportunities for our students.
For More Information About Makerspace: http://spaces.makerspace.com/
---
Grant Information From the OceanFirst Foundation
Since its founding in 1902, OceanFirst Bank has built a solid reputation and legacy as a good neighbor and responsible corporate citizen. The bank's strong commitment to helping families, organizations, schools and communities throughout central and southern New Jersey meet their financial needs has spanned several generations reaching new heights in 1996 with the creation of the Ocean First Foundation.
The Foundation provides grants to organizations that meet community needs within the OceanFirst footprint area. Since its inception, the OceanFirst Foundation has contributed more than $30 million to over 8750 local charities and schools.