Return to Headlines
2017 Parent University: Breakthroughs in Learning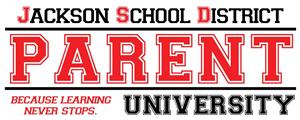 BREAKTHROUGHS IN LEARNING
Do you have difficulty communicating with your child?
Would you like to learn new approaches that bring out positive results both behaviorally and academically?
Free and Open to All Elementary School Parents
Join Us for a Light Meal, too!
Free Childcare!
Sessions to accommodate parents at two different schools on various dates between January and April.
Session 1 (Thursdays @ Crawford-Rodriguez): Jan. 19, Jan. 26, Feb. 2, Feb. 9
Session 2 (Wednesdays @ Holman): March 8, March 22, March 29, April 5
Attend ANY session at ANY school - Open to all ages and grades!
Join Sharon McCarthy, a well known presenter and author, for this hands-on course designed to honor, support and promote the parent's role in developing their child's academic success, safety and independence.
This 4-session workshop is appropriate for all parents and is not grade or age level specific. A light meal will be served at each session and childcare is available. There is no cost to attend, but you must register, as space is limited. Prizes and Game giveaways for families at each event!


Parents who participate in this series will:


Develop good communication skills where both parent and child are listening and talking.

Become familiar with approaches to parenting that elicit positive results both behaviorally as well as academically.

Learn several protocols that are instrumental in the development of a child's organizational skills and ability to control self.

Expand their knowledge of ways to keep their children safe, both at home and on the way to school.