Return to Headlines
Changes to Bus Stops for Students on Cul-de-Sacs Beginning September 2023 - Read More Information - Parent Forum to Ask Questions is Monday, June 12
Changes to Bus Stops for Students on
Cul-de-Sacs Beginning September 2023
Parent Forum to Answer Questions:
Monday, June 12 at 6 p.m. in Crawford-Rodriguez Elementary School Cafeteria
May 31, 2023
Dear Parent,
This letter is to notify you of an important change to be implemented in September 2023 that will impact the bus stops for students who live on cul-de-sacs. You are receiving this letter because you live on a cul-de-sac. If you are a walker, you may disregard this email.
As reported at the May 17 Board of Education meeting, the Transportation Committee has concluded a comprehensive review of safe bus operations on cul-de-sacs. With few exceptions (listed below), beginning next school year the Jackson School District will no longer be traveling down cul-de-sacs to pick up students.
It is not safe for our school buses to travel down cul-de-sacs. There are many instances when vehicles, objects or a tight turning radius forces our buses to travel in reverse to get out of the cul-de-sac. This is NOT SAFE. Hazards include:
Parked vehicles

Delivery vehicles

Snow accumulation

Trash containers

Dumpsters

We run the risk of injury or property damage due to tight turning radius
Students who are currently picked up on their cul-de-sac will be assigned a new bus stop this summer.
It will be listed on the bus pass you access through the Parent Portal.
This new bus stop will be at the corner of the nearest through street (e.g. a street a bus can navigate without entering a cul-de-sac or needing to turn around).
Limited Exceptions Will be Made For:
Students who live 0.5 miles (a half-mile) or greater from the nearest through street will continue to be picked up. We will use a VAN for these pickups.
Special Needs Students with curb-to-curb accommodations in their IEP will continue to be picked up. We will continue to utilize a VAN for these pickups.
We strongly encourage you to view the information in the Cul-de-Sac Safety Changes document linked here and below. If you'd like to discuss these changes with us in person, we will be holding a Parent Forum so we can answer any questions you may have.
This Parent Forum will be held on Monday, June 12, 2023 at 6 p.m. in the Cafeteria at Crawford-Rodriguez Elementary School, 1025 Larsen Road.
At this forum, the Board of Education Transportation Committee and Administration will be on hand to answer questions.

The easiest way to access the cafeteria is to go down Larsen Road and park on the upper level of Crawford-Rodriguez - using the Larsen Road entrance labeled "bus ramp" and parking on the bus ramp shared by Crawford-Rodriguez and Johnson Schools.
View Information on Cul-de-Sac
Safety Changes Beginning in 2023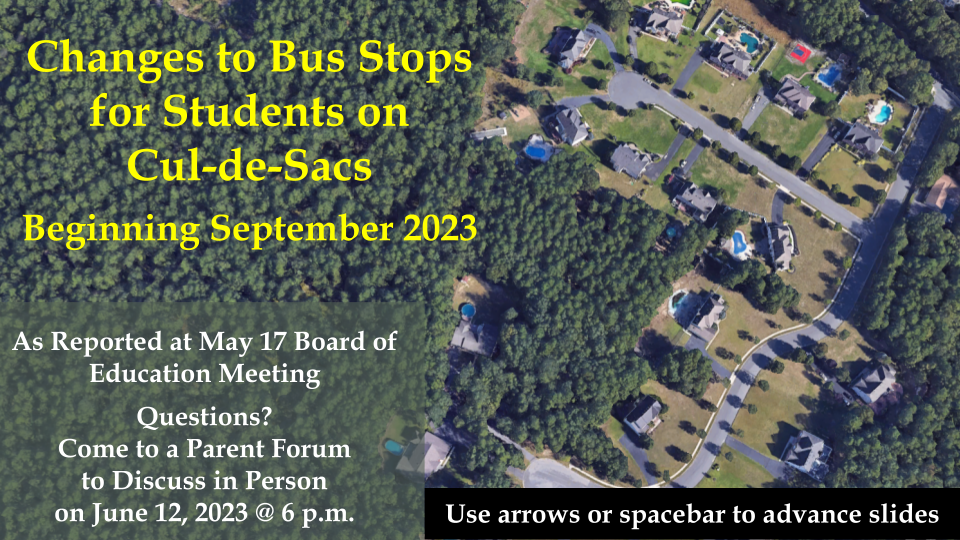 ---
Cambios en las paradas de autobús para estudiantes en Cul-de-Sacs: a partir de septiembre de 2023
Se llevará a cabo un foro de padres para responder preguntas
Lunes 12 de junio a las 18 h. en la cafetería de la Escuela Primaria Crawford-Rodríguez
31 de mayo de 2023
Querido padre,
Esta carta es para notificarle de un cambio importante que se implementará en septiembre de 2023 y que afectará las paradas de autobús para los estudiantes que viven en callejones sin salida. Está recibiendo esta carta porque vive en una calle sin salida.
Como se informó en la reunión de la Junta de Educación del 17 de mayo, el Comité de Transporte concluyó una revisión integral de las operaciones seguras de autobuses en callejones sin salida.Con pocas excepciones (enumeradas a continuación), a partir del próximo año escolar, el Distrito Escolar de Jackson ya no viajará por callejones sin salida para recoger a los estudiantes.
No es seguro que nuestros autobuses escolares viajen por callejones sin salida. Hay muchos casos en los que los vehículos, los objetos o un radio de giro estrecho obligan a nuestros autobuses a viajar en reversa para salir del callejón sin salida. Esto NO ES SEGURO. Los peligros incluyen:

vehículos estacionados

vehículos de reparto

Acumulación de nieve

Contenedores de basura

contenedores de basura

Corremos el riesgo de lesiones o daños a la propiedad debido al radio de giro estrecho
A los estudiantes que actualmente son recogidos en su calle sin salida se les asignará una nueva parada de autobús este verano.
Aparecerá en el pase de autobús al que accede a través del Portal para padres.
Esta nueva parada de autobús estará en la esquina de la calle principal más cercana (por ejemplo, una calle por la que un autobús puede transitar sin entrar en un callejón sin salida o sin tener que dar la vuelta).
Se harán excepciones limitadas para:
Estudiantes que viven a 0.5 millas (media milla) o más de la calle más cercana seguirá siendo recogido. Usaremos una VAN para estas recolecciones.
Estudiantes con necesidades especiales con adaptaciones de acera a acera en su IEP seguirá siendo recogido. Continuaremos utilizando una VAN para estas recolecciones.
Le recomendamos encarecidamente que consulte la información en el Cambios de seguridad en Cul-de-Sac documentovinculado aquí. Si desea discutir estos cambios con nosotros en persona, realizaremos un Foro para padres para que podamos responder cualquier pregunta que pueda tener.
Este Foro de Padres se llevará a cabo el 12 de junio de 2023 a las 6 p.m. en la Cafetería de la Escuela Primaria Crawford-Rodriguez, 1025 Larsen Road.En esta reunión, el Comité de Transporte y la Administración de la Junta de Educación estarán disponibles para responder preguntas.
La forma más fácil de acceder a la cafetería es bajar por Larsen Road y estacionarse en el nivel superior de Crawford-Rodriguez, usando la entrada de Larsen Road marcada como "rampa de autobús" y estacionándose en la rampa de autobús compartida por las escuelas Crawford-Rodriguez y Johnson.
Ver información sobre los cambios de seguridad
en Cul-de-Sac a partir de 2023