Christa McAuliffe Middle School
Return to Headlines
McAuliffe Earns Sustainability Champion Award from Sustainable Jersey For Schools... and Switlik Earns Silver Certification
McAuliffe Middle School Earns Statewide Sustainability Champion Award;
Switlik Elementary Earns Silver Certification;
All 10 Jackson Schools Have Achieved Sustainability Certification!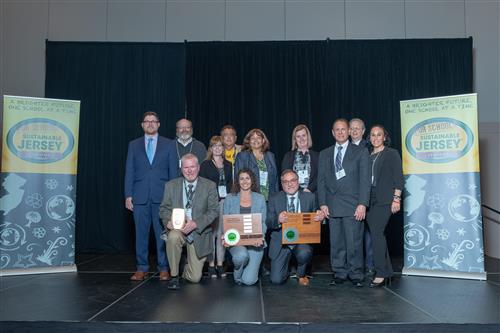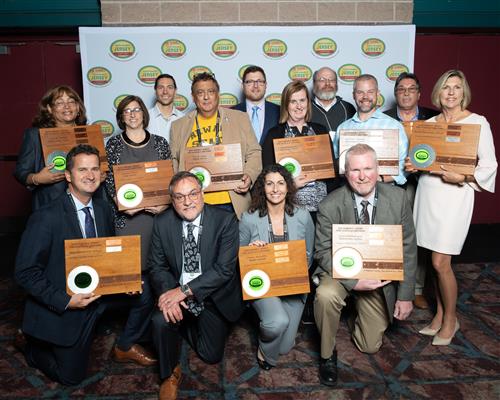 McAuliffe Middle School Principal Debra Phillips, district administrators and the Board of Education Accept the Sustainability Champion Award from Sustainable Jersey for Schools.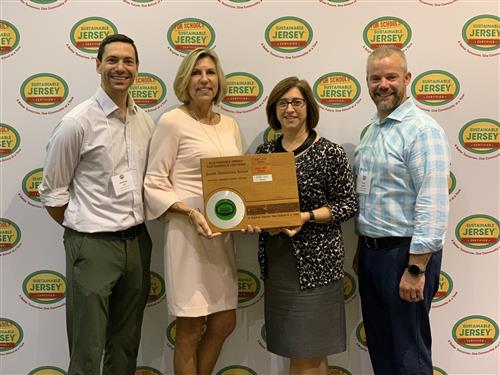 From left, Switlik teacher Anthony Luell, Principal Kathleen McKiernan, Asst. Principal Renee Pagano-Hein and teacher Brian Morgan accept the Silver Certification Recognition from Sustainable Jersey for Schools.
JACKSON – For the second year in a row, a Jackson school has earned the top award from a statewide organization dedicated to promoting programs and efforts to create a more sustainable school and world.
The Christa McAuliffe Middle School was recently presented with the Sustainability Champion Award at the New Jersey School Boards Association workshop by Sustainable Jersey for Schools, a non-profit organization that provides tools, training and financial incentives to support sustainability programs. This award recognizes one elementary, one middle and one high school for earning the most points in their category and for "significant sustainability achievements.''
"McAuliffe Middle School is so honored to have earned this award because it recognizes the power of working together for the common good,'' said McAuliffe Principal Debra Phillips. "Our entire school community takes great pride in finding new and creative ways we can live responsibly and take care of our planet, and each other."
In addition to the statewide award for McAuliffe, the Switlik Elementary School earned Silver Certification in the program, joining Jackson Liberty High School and Elms Elementary School as Silver Certified Schools. All other Jackson schools have earned at least Bronze Level Certification in this program. Jackson Liberty High School earned the same Sustainability Champion award last year.
"There are only 15 schools in the county that have earned either Bronze or Silver certification, and ten of them are right here in Jackson,'' said Superintendent of Schools Stephen Genco. "This is not by chance. This is because we have created a culture that values education and action when it comes to living responsibly.''
Genco said he is incredibly proud of the ways the board, staff and students work together to find creative and meaningful ways to promote sustainability.
Efforts include "Green Teams" in all schools to spread awareness and design opportunities to promote conservation and sustainability, re-vamped recycling programs, water bottle filling stations, campus clean up projects, a district-wide energy saving competition, celebrating World Water Day and participating in Recycling Programs with the Township of Jackson and other entities. The district also has several solar panel projects online to generate clean energy and is pursuing additional solar projects in the future.
"I commend the teachers, administrators, staff, parents and students for their hard work and dedication—it's truly paying off," said Randall Solomon, executive director of Sustainable Jersey. "The 2019 schools that have achieved Sustainable Jersey for Schools certification are leading the way to a more sustainable New Jersey. I've seen time and again, when schools and our young people are given direction and support, they're powerful catalysts for change. Becoming certified with Sustainable Jersey for Schools is a significant achievement."
---
About Sustainable Jersey for Schools
Sustainable Jersey for Schools is a certification program for public schools in New Jersey. It was launched by Sustainable Jersey, an organization that provides tools, training and financial incentives to support and reward municipalities and schools as they pursue sustainability programs. To date, 336 school districts and 872 schools are participating in the program. The full list of participating and certified schools and school districts is available: Participating Districts and Schools. Sustainable Jersey for Schools has awarded over $1.8 million in grants to schools and school districts. In 2019, Sustainable Jersey is celebrating its 10th Anniversary with a year-long campaign that will include special events to educate and engage the Sustainable Jersey community and create a vision for the future.
Sustainable Jersey for Schools is underwritten by the New Jersey School Boards Association (NJSBA), the New Jersey Board of Public Utilities Clean Energy Program, The Geraldine R. Dodge Foundation, the PSEG Foundation and the New Jersey Education Association (NJEA). The 2019 Sustainable Jersey for Schools grants program is underwritten by the PSEG Foundation, NJEA and the Gardinier Environmental Fund. Platinum and founding sponsors are South Jersey Gas and New Jersey Natural Gas. The gold and founding sponsor is NJM Insurance Group. The silver sponsor is Investors Bank. The bronze sponsors are BioShine, Gabel Associates, Maschio's Food Service Inc., Jersey Central Power & Light and Schneider Electric.
Program partners include: NJSBA, NJEA, New Jersey Association of School Administrators (NJASA), New Jersey Association of School Business Officials (NJASBO), New Jersey Parent Teacher Association (NJPTA), New Jersey Principals and Supervisors Association (NJPSA), New Jersey School Buildings and Grounds Association (NJSBGA) and The Sustainability Institute at The College of New Jersey (TCNJ).
Website: www.SustainableJerseySchools.com
Twitter: www.twitter.com/SJ_Schools
Facebook: www.facebook.com/SustainableJersey
Instagram: https://instagram.com/sustainable_jersey/
Linked In: www.linkedin.com/company/sustainable-jersey