Christa McAuliffe Middle School
Return to Headlines
Christa McAuliffe Middle School Students Are Helping Peers Improve Social Emotional Health
Christa McAuliffe Middle School Students are Helping Peers Improve Social-Emotional Health
School Earns NJEA HIPP Foundation Grant Funds for "Healing Library" to Provide Teens Resources to Cope with Personal Trauma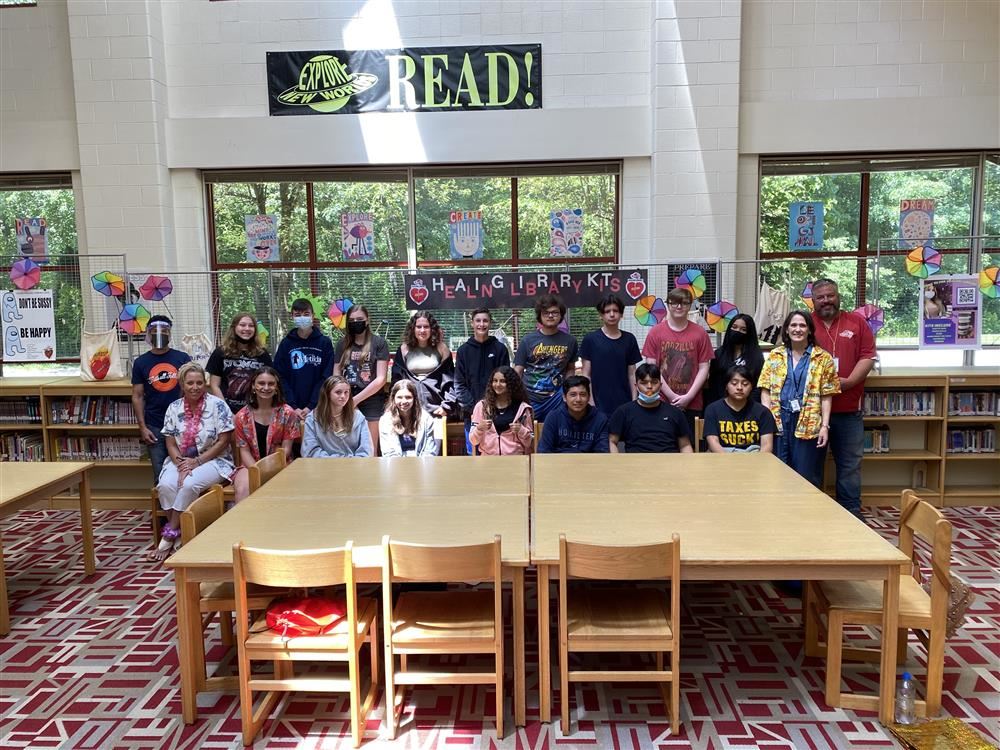 Christa McAuliffe Middle School students are helping their peers deal with a variety of social-emotional health issues by conceiving of and constructing a "Healing Library" located in the school's library as well as being donated to the Jackson Township branch of the Ocean County Library. The Healing Library work at McAuliffe was made possible thanks to a generous grant from the New Jersey Education Association (NJEA) Frederick L. Hipp Foundation for Excellence in Education.
The purpose of a Healing Library is to make an individual or family's experience confronting and overcoming personal trauma of some kind easier by providing a variety of diverse and specific resources. The kits are a type of "first-aid for the brain," compiled by McAuliffe students for local middle school-aged students and accessible in the school library similar to other library resources.
Throughout the COVID pandemic, parents, medical professionals, government officials, educational leaders and pediatric experts have been acutely aware of its potential impact on teens' social-emotional health. Not only has COVID-related anxiety been a concern, but the isolation many children have experienced over the past year and a half has complicated many of the struggles they already were enduring. Making students understand that they are not alone and there are many others who are struggling with similar challenges and providing them with easily accessible coping resources and strategies is the goal of the healing library.
"Libraries have always been a place for students to access myriad resources to meet challenges and thanks to the Hipp Foundation Grant and the dedicated work of our students, our Library at McAuliffe will now help serve our school community with information that could help teens begin the process of addressing their social-emotional health," said Healing Library Project Coordinator Bridgit Lapierre Valgenti, the Media Specialist at Christa McAuliffe Middle School.
As per the parameters of the Hipp Grant, McAuliffe 8th grade students from a variety of classes identified several mental health topics that affect middle school students. After comprehensive academic research on topics of their choosing, student groups worked with faculty and community members to create Healing Library Kits to provide students with resources and support. Each kit is unique to its topic and the guided choices of students who comprised them. Kits can include but are not limited to self-help books, picture books, a young adult book dealing with the topic, activities to help understand the topic, local resources, websites and articles, and activities that provide a coping mechanism.
The topics that were identified by students to be addressed through the Healing Library at McAuliffe are Depression, Eating disorders, COVID stress, Body Image/Self Esteem, Anger Management, Coping with Divorce and Stress/Anxiety. Students spent countless hours researching and documenting coping strategies and resources and then chose the physical tools to populate the Healing Library Kits. Upon completion in June, a set of kits, one for each topic, will permanently reside in the McAuliffe Middle School library, and one set of kits will be donated to the Jackson Township branch of the Ocean County Library.
"We're so proud of Mrs. Valgenti and her students for using their talents and hard work to address the mental health crisis," said Dawn Hiltner, spokesperson for the Hipp Foundation. "The Healing Library is not only a great resource for students, it helps them realize that they are not alone in their struggles. I wouldn't be surprised if the Healing Library turns into a national or global program."
"I was amazed at the thoughtful and creative ways in which McAuliffe students addressed each of the Healing Library topics and I am extremely proud of their work," Valgenti said. "Thanks to the 8th grade class of 2021, Healing Library kits will be a source of comfort and information for future McAuliffe students for many years."
#####
The NJEA Frederick L. Hipp Foundation for Excellence in Education makes it possible for public school employees to receive grants that will help them bring creative ideas to life. The only foundation of its kind in New Jersey, the Hipp Foundation supports initiatives to promote excellence in education. More than $2.1 million in grants for innovative educational projects that represent a bold, fresh approach by public school employees has already been awarded. Apply for a Hipp grant and bring your innovative ideas to life.
#####
Educating more than 9,000 students in 10 schools, the Jackson (NJ) School District is a partnership of dedicated staff, learners and community members committed to developing the unique abilities of each student through compelling learning experiences in a safe and nurturing environment. Its comprehensive, engaging and technology-enriched programs inspire, educate and motivate students to become independent, creative and critical thinkers who will thrive in a diverse, evolving global society.