Return to Headlines
Catching Up on Some Good News: Band Night 2020 - Jackson School District High School Marching Bands Unite for an Evening of Music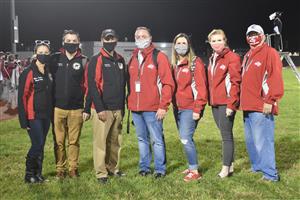 Click Here to See the Photo Album
Jackson School District High School Marching Bands Unite for an Evening of Music
JACKSON - Under a beautiful, clear sky, the marching bands of both Jackson Liberty and Jackson Memorial High Schools united to perform at the Jackson Liberty High School Stadium.
Excitement filled the air on Thursday, October 15, as both marching bands took the field to perform their 2020 repertoire! It was an emotional and proud moment for families and friends to support and cheer on these talented, dedicated students. With limited rehearsal time and also adhering to the state health guidelines, this was a tremendous accomplishment and successfully pulled off!
What would have been a hectic competition season for these two bands has been halted due to the current pandemic. In a typical season, both bands would travel all over the tri-state area and perform and interact with many other marching programs. These seasons, which typically run from July through November, build comradery, teamwork, lifelong friendships in conjunction with music performance skills. With the lack of these opportunities, this first-ever district band night allowed each band to showcase their hard work to supporters in the Jackson community. It gave the students a small sense of normalcy in an otherwise, very unorthodox season. Only a few short months ago, original field shows were changed, which takes months to plan, new music had to be learned and memorized, and color guard choreography had to be introduced. Students learn very early that there are no shortcuts to success; this year was no exception. Cooperation and perseverance were never as important as it is this year. This came through with this evening's performance!
Chills and amazement were felt as both ensembles performed The Star-Spangled Banner together! An emotionally moving moment that set the tone for the evening. The Jackson Memorial High School Jaguar Marching Band performed their 2020 show, I'm Still Standing next. Their show featured the music of Elton John and ignited the night with a fun and energetic sound! The Memorial Band is under the direction of Jason Diaz and Eric Ficarra; Color Guard Advisor, Caitlyn Ficarra. The Drum Majors for this season are Nicholas Morales, Troy DiStaso, and Rebecca Lewis
Next up was the hosts for the evening, the Jackson Liberty Lion High School Marching Band with their 2020 show. They opened with the powerful composition titled Estancia and finished with the popular tune, Can't Stop the Feeling. The band's exhilarating sound delighted the crowd and its festive vibe topped off the night! The Liberty Band is under the direction of Scott Katona; Assistant Director, Dr. Alan Kinsey; Percussion Advisor, Jessie Katona and Color Guard Advisor. Lindsay Taft. The Drum Majors for the season are Emma Kanis, Cheyenne Thayer, and Ian Delapena
As a bonus, the bands teamed up, once again, to conclude the evening with The Hey Song. This particular tune is heard at all home football games and is very familiar to many Jackson residents! It shows a unity and oneness of spirit for a great finale!
Everyone will agree it was a night to remember! The chance to perform and be recognized for all their hard work and dedication was more than any of these students could have hoped for at the start of this year. Many thanks go out to the organizers of this event; the Jackson School District, the band directors, and support of so many people. A special thanks to the district Supervisor of Athletics, Robert Paneque, for originally proposing the idea. It was a springboard that led to an enjoyable, rewarding and hopefully continuing tradition of Jackson pride!