Return to Headlines
Jackson School District Approves 2023-2024 Budget Amid Funding Challenges and Announces a Special Question for Vote in November 2023
Jackson School District 2023-2024 Budget Information
Jackson School District Approves 2023-2024 Budget Amid Funding Challenges and Announces a Special Question for Vote in November 2023
Presentations and Full Budget Details are Available for Viewing
May 9, 2023
Dear Jackson Families and Staff,
The 2023-2024 Jackson School District Budget was approved at the Board of Education meeting last night. As we have been discussing, in the wake of six years' worth of devastating aid losses and increased expenses outside of our control, it was necessary to make significant cuts to staffing and programs. The decisions we are making are painful. Please know they were made with careful consideration for what would have the least impact on students' education and experiences.
This is NOT the budget we want - it is the budget we are forced to endure given our extraordinary challenges.
Even the significant cuts we included in this budget were not enough to balance it - and we refused to consider a budget that cut more deeply than we already had, as doing so would have prohibited us from providing an efficient education for our students. Therefore, we have asked the NJ Department of Education for $10.2 million in assistance to balance our budget for 2023-2024.
Our requested loan has been recommended to be at a zero-percent interest rate for 10 years.

The district will need to work the 10-year loan payment into our budget each year; given the 2% cap on the tax levy, the loan payment will NOT impact a Jackson resident's tax rate.

We have met with the Executive County Superintendent multiple times, going through each line item in the budget. He has communicated to the Department of Education that the district has been fiscally responsible.
FAST FACTS ABOUT the 2023-2024 BUDGET:
(See Budget and Financial Information Page for Full Details and Documents, Including Areas to be Reduced):
Total Budget is $165,790,499

Results in .0005-cent increase to the School Tax Rate

2023 Tentative School Tax Rate = $1.4203 per $100 of assessed home value

The average home in Jackson is assessed at $330,688 - This budget would translate to a $2 increase per year for the average homeowner
SPECIAL QUESTION - NOVEMBER 2023
In the budget presentations – which are linked on our Budget and Financial Information Page – we are also introducing our plan to seek voter approval on Election Day in November for a Special Question to add positions to our district to serve our students. The question will seek to raise an additional $4,035,000 for the purpose of adding the positions below. If approved, it would result in a permanent addition to the tax base.
We will be creating multiple opportunities to discuss this Special Question with all stakeholders in the coming months.
6 Guidance Counselors

2 Student Assistance Counselors

8 Interventionist Teachers

10 Elementary Teachers

12 Secondary Teachers

1 Nonpublic Student Coordinator

1 Nonpublic Secretary

4 Child Study Team Members

4 ESL Teachers
We have HOPE that S2 will not remain in place for the 2024-2025 budget year, that a more balanced funding formula for the state is developed and that our state aid will increase for ELL, special education, transportation and security. However, the district can not plan with just hope. We needed to ACT NOW to protect the education of our students. As painful as it is, this budget does that.
We will continue our efforts to educate decision-makers about our unique circumstances and the funding we need to run our district. We are hopeful a solution is on the horizon. Until then, we will continue to put students first, always.
Sincerely,
Nicole Pormilli
Superintendent of Schools
---
The full context and details from the Public Hearing are available on our website and are linked below.
VIDEO VERSION - May 8, 2023 Budget Presentation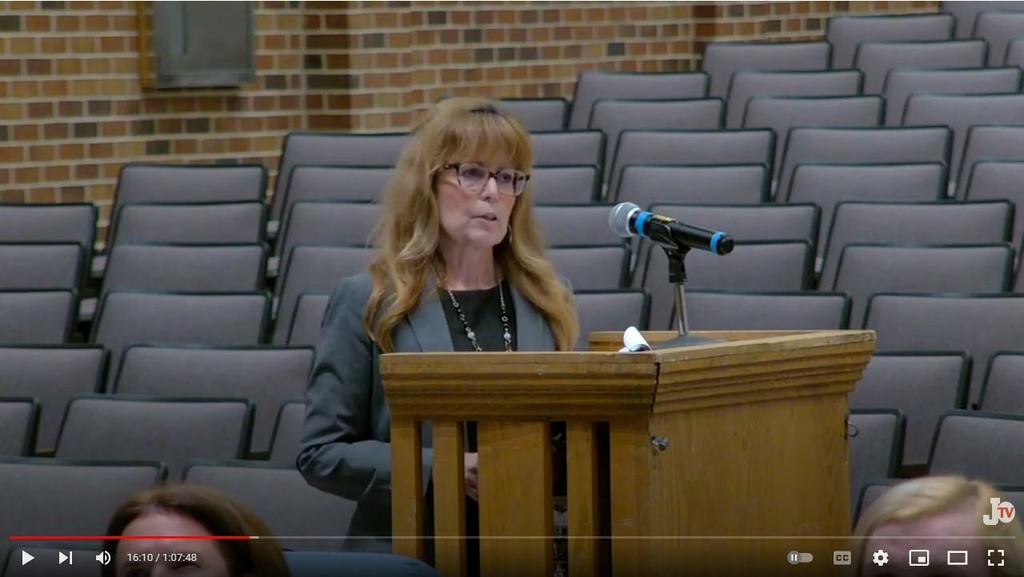 TEXT VERSION - May 8, 2023 Budget Presentation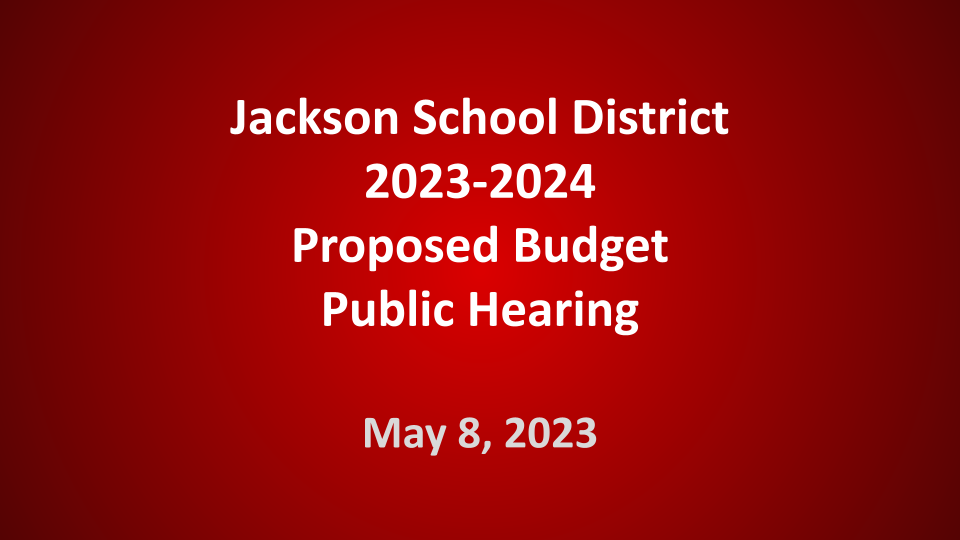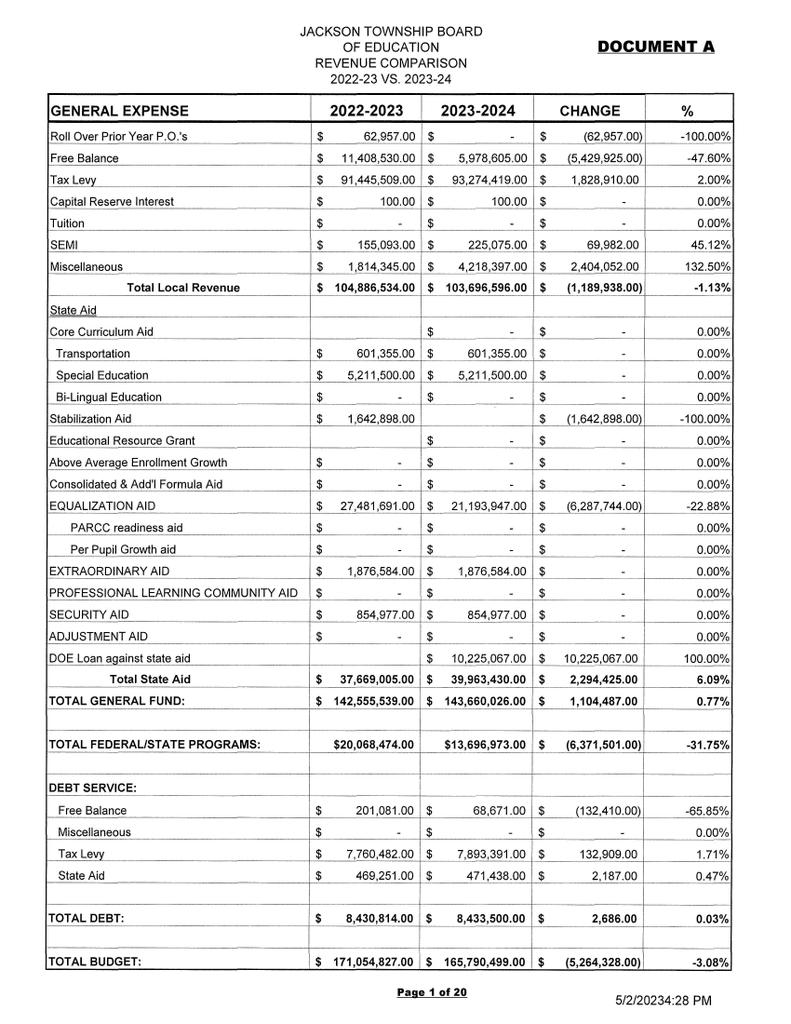 ---
El distrito escolar de Jackson aprueba el presupuesto 2023-2024 en medio de desafíos de financiación
y anuncia una pregunta especial para votar en noviembre de 2023
Las presentaciones y los detalles completos del presupuesto están disponibles para su visualización
9 de mayo de 2023
Estimadas familias y personal de Jackson,
El Presupuesto del Distrito Escolar de Jackson 2023-2024 fue aprobado en la reunión de la Junta de Educación anoche. Como hemos estado discutiendo, a raíz de seis años de devastadoras pérdidas de ayuda y mayores gastos fuera de nuestro control, fue necesario hacer recortes significativos en el personal y los programas. Las decisiones que estamos tomando son dolorosas. Tenga en cuenta que se hicieron teniendo en cuenta cuidadosamente lo que tendría el menor impacto en la educación y las experiencias de los estudiantes.Este NO es el presupuesto que queremos, es el presupuesto que nos vemos obligados a soportar debido a nuestros extraordinarios desafíos.
Incluso los recortes significativos que incluimos en este presupuesto no fueron suficientes para equilibrarlo, y nos negamos a considerar un presupuesto que recortaba más de lo que ya teníamos, ya que hacerlo nos habría prohibido brindar una educación eficiente a nuestros estudiantes. Por lo tanto,Hemos pedido al Departamento de Educación de NJ $10,2 millones en asistencia para equilibrar nuestro presupuesto para 2023-2024.
Se ha recomendado que nuestro préstamo solicitado tenga una tasa de interés del cero por ciento durante 10 años.

El distrito deberá incluir el pago del préstamo a 10 años en nuestro presupuesto cada año; gramoDado el tope del 2% en la tasa de impuestos, el pago del préstamo NO afectará la tasa de impuestos de un residente de Jackson.

Nos hemos reunido con el Superintendente Ejecutivo del Condado varias veces, analizando cada partida del presupuesto. Ha comunicado al Departamento de Educación que el distrito ha sido fiscalmente responsable.
DATOS RÁPIDOS SOBRE elPRESUPUESTO 2023-2024:
(VerPágina de información presupuestaria y financiera para detalles completos y documentos, incluidas las áreas a reducir):
El presupuesto total es de $ 165,790,499

Da como resultado un aumento de 0,0005 centavos en la tasa del impuesto escolar

Tasa tentativa de impuestos escolares de 2023 = $ 1.4203 por cada $ 100 del valor tasado de la vivienda

El hogar promedio en Jackson se evalúa en $ 330,688

Este presupuesto se traduciría en unAumento de $2 por año para el propietario medio

PREGUNTA ESPECIAL - NOVIEMBRE 2023
En las presentaciones presupuestarias, que están vinculadas en nuestroPágina de información presupuestaria y financiera –también presentamos nuestro plan para buscar la aprobación de los votantes el día de las elecciones en noviembre para una pregunta especial para agregar puestos a nuestro distrito para servir a nuestros estudiantes.La pregunta buscará recaudar $4,035,000 adicionales con el fin de agregar los puestos a continuación. Si se aprueba, resultaría en una adición permanente a la base imponible.
Estaremos creando múltiples oportunidades para discutir esta pregunta especial con todas las partes interesadas en los próximos meses.
6 Consejeros

2 Consejeros de Asistencia Estudiantil

8 Profesores Intervencionistas

10 Maestros de primaria

12 Profesores de Secundaria

1 Coordinador de Estudiantes Privados

1 Secretario no público

4 Miembros del equipo de estudio infantil

4 Profesores de ESL
Tenemos la ESPERANZA de que S2 no permanezca vigente para el año presupuestario 2024-2025, que se desarrolle una fórmula de financiación más equilibrada para el estado y que nuestra ayuda estatal aumente para ELL, educación especial, transporte y seguridad. Sin embargo, el distrito no puede planificar con solo esperanza. Necesitábamos ACTUAR AHORA para proteger la educación de nuestros estudiantes. Tan doloroso como es, este presupuesto hace eso.
Continuaremos nuestros esfuerzos para educar a los tomadores de decisiones sobre nuestras circunstancias únicas y sobre los fondos que necesitamos para administrar nuestro distrito. Tenemos la esperanza de que haya una solución en el horizonte. Hasta entonces, continuaremos poniendo a los estudiantes primero, siempre.
Atentamente,
Nicole Pormilli
Superintendente de Escuelas
El contexto completo y los detalles de la audiencia pública están disponibles en nuestro sitio web y están vinculados a continuación.
VERSIÓN EN VIDEO - 8 de mayo de 2023 Presentación del Presupuesto
VERSIÓN DE TEXTO - 8 de mayo de 2023 Presentación del Presupuesto