Return to Headlines
IMPORTANT NOTICE FOR HS ONLY - On Jan. 26, all 10th and 11th Grade Students Will Attend In-Person to Take PSAT. Hybrid Students in Grades 9 and 12 Will Learn REMOTELY Jan. 26
IMPORTANT NOTICE FOR HIGH SCHOOLS ONLY
On Tuesday, Jan. 26, ALL Students in Grades 10 and 11
Will Come to School In Person to Take the PSAT
All Students in Grades 9 and 12 will be REMOTE on Jan. 26
Dear Parents/Guardians,
This letter contains extremely important information regarding the upcoming PSAT testing that will take place at both Jackson Memorial and Jackson Liberty High School on Jan. 26 - and how it will impact whether your child reports to school that day.
On Tuesday, Jan. 26 we will be administering the PSAT to ALL students in Grades 10 and 11, including those on Full Remote and Full Synchronous learning. This assessment is very important, as it fulfills a major graduation requirement. All testing must take place in-person, as the College Board does not provide an online PSAT test option.
In order to test all 10th and 11th grade students while still maintaining safe distancing, we need to utilize the entire school and our school staff to proctor the assessment. This means that ONLY STUDENTS IN GRADES 10 and 11 will attend school in person on Jan. 26. Our 5-Day Self-Contained students will also attend school in person on Jan. 26. All other students will stay home and learn remotely.
Information about testing details and the health and safety protocols that will be in place will be forwarded next week to our 10th and 11th grade families.
Details for each group of students, including how transportation will be provided - are listed below. Please review this information with your child so that they understand where to report and what to do on Jan. 26.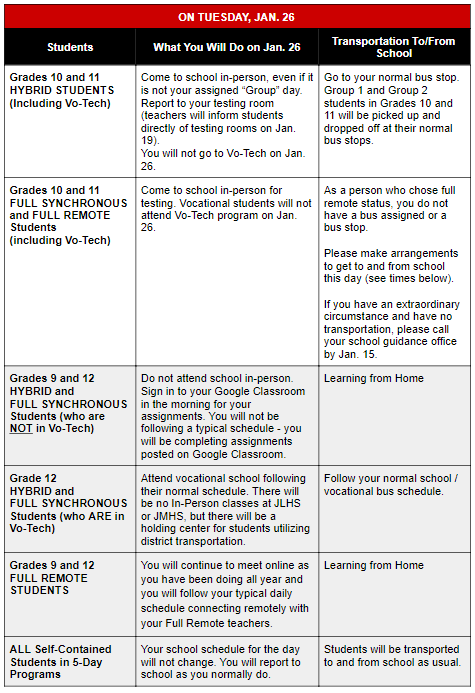 Why Give the PSAT?
The importance of the PSAT assessment is two fold. First, it is excellent preparation for the SAT test and it provides access to resources to help students prepare for College Board tests. Second, and probably a more important factor in this time of COVID-19, it will serve as an alternate "Pathway" for graduation. The NJ Department of Education requires students to demonstrate proficiency in the areas of Literacy & Math. With the NJDOE cancellation of NJSLA tests last spring, the students who did not test have one less assessment cycle to demonstrate graduation standards. Approximately, 30% of our students will meet the Graduation requirements via either the SAT or PSAT.
---
El martes 26 de enero, TODOS los estudiantes de los grados 10 y 11
Vendrá a la escuela en persona para tomar el PSAT
y todos los estudiantes en los grados 9 y 12 serán REMOTOS el 26 de enero
Estimados padres / tutores:
Esta carta contiene información extremadamente importante sobre las próximas pruebas PSAT que se llevarán a cabo en Jackson Memorial y Jackson Liberty High School el 26 de enero, y cómo afectará si su hijo se presenta a la escuela ese día.
El martes 26 de enero administraremos el PSAT a TODOS los estudiantes de los grados 10 y 11, incluidos los que están en aprendizaje totalmente remoto y sincrónico total. Esta evaluación es muy importante, ya que cumple con un requisito importante de graduación. Todas las pruebas deben realizarse en persona, ya que el College Board no ofrece una opción de prueba PSAT en línea.
Para poder evaluar a todos los estudiantes de décimo y undécimo grado sin dejar de mantener una distancia segura, necesitamos utilizar toda la escuela y nuestro personal escolar para supervisar la evaluación. Esto significa que SOLO LOS ESTUDIANTES EN LOS GRADOS 10 y 11 asistirán a la escuela en persona el 26 de enero. Nuestros estudiantes autónomos de 5 días también asistirán a la escuela en persona el 26 de enero. Todos los demás estudiantes se quedarán en casa y aprenderán de forma remota.
La próxima semana se enviará información sobre los detalles de las pruebas y los protocolos de salud y seguridad que estarán vigentes a nuestras familias de los grados 10 y 11.
Los detalles de cada grupo de estudiantes, incluida la forma en que se proporcionará el transporte, se enumeran a continuación. Por favor revise esta información con su hijo para que comprendan dónde reportar y qué hacer el 26 de enero.