Return to Headlines
Jackson Student Gives Back to Holman With Eagle Scout Project to Build Gaga Pit
Jackson Board of Education Honors Student Joseph Kane
for Building Gaga Pit at Holman as His Eagle Scout Project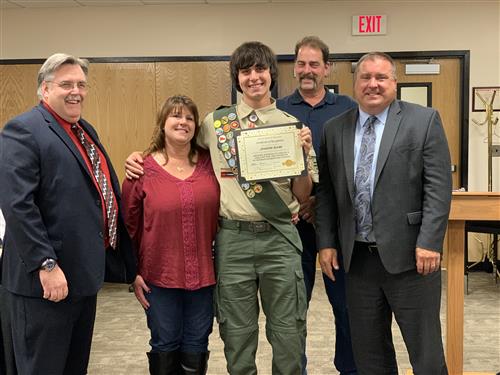 Student Joseph Kane and his parents are honored at the Jackson Board of Education meeting. Far left is BOE President John Burnetsky. Far right is Holman Principal Richard Karas.
Click Above to Watch a Video of Holman Students Enjoying Their New Gaga Pit
Read Below: Remarks from the Board of Education Meeting, by Board President John Burnetsky
Tonight we get to celebrate a young man who has spent a great deal of time and effort to bring a great deal of joy to the students of Holman Elementary School.
Joseph Kane is in 10th grade now, but not long ago he was a fifth grader at Holman Elementary School. A dedicated boy scout, when it came time for Joseph to choose a project as part of his effort to earn the rank of Eagle Scout, he remembered where he came from. He collaborated with principal Rich Karas and came up with an idea to build a Gaga Pit at his old elementary school.
After researching and creating his own plans, he used recycled pieces of the Point Pleasant boardwalk and his own two hands to create something that the students of Holman have been using every single day since.
For those of you who don't know what a Gaga pit is, it's an octagon shaped arena where students try to eliminate each other by rolling a ball and tagging each other out. It's fast-paced, fun, and teachers say it is a great recess activity because it is inclusive and engaging. Anyone can play, and anyone can win.
Let's take a look at Joseph's handiwork (see the link to video of Holman students using Gaga Pit).
It is so beautifully done, and is being well used. Teacher at Holman say the students run outside to play it - and don't want to stop.
On behalf of the board, I'd like to thank Principal Richard Karas for working with Joseph as he created this project. And now we are so happy to recognize Joseph Kane - not only for his efforts to provide this amazing feature to our school, but for showing us all the value of community service and giving back. Because that is the true gift.