Return to Headlines
McAuliffe Launches Fitness Program Earned Through $25,000 Project Fit Grant
McAuliffe Middle School Launches Fitness Program and Equipment
Earned Through $25,000 Project Fit Grant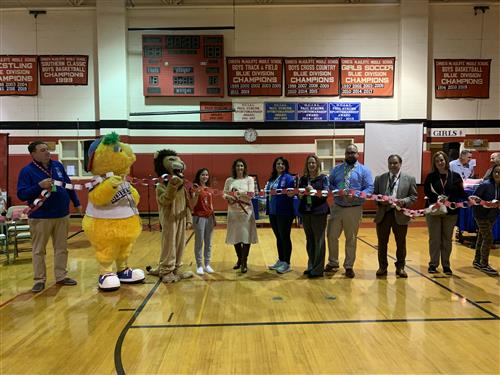 JACKSON - Earlier this year, the McAuliffe Middle School asked the community to "exercise" their right to vote so they could win $25,000 worth of fitness equipment - and it worked!
Now that work on the stations and equipment has been finished and the staff has been trained, the McAuliffe Middle School recently and proudly launched its new Project Fit America equipment and program.
The kickoff event was held indoors due to the weather and featured a "ribbon'' cutting of sorts - actually a series of paper bands that circled the gymnasium. Students and staff showed off some of the materials and the school showed a video of the fitness stations in action. Principal Debra Phillips cited the work of teachers Victoria Hay and Nick Caruso for spearheading the project.
"This is what happens when a school and a community come together to help students,'' Phillips said. "We are so grateful to Dannon and to Shop Rite, our teachers Vicki Hay and Nick Caruso, who organized this, and to all the people who helped make this happen for our school.''
The school won after the Jackson community rallied together to get the school the most votes during February 2019. The school was notified at the end of last school year that they were one of only four recipients of the $25,000 grant.
The funds were used to install physical education outdoor and indoor equipment, a new physical education curriculum and for teacher training. The Project Fit America Grant is Shoprite and Dannon yogurt. Representatives from both companies, Buster from the Lakewood Blue Claws, as well as district representataives and Board of Education Member Tara Rivera, were on hand to join in the launch and congratulated the school for working so hard to win the grant.
"This effort really points to the power of the community pulling together - and to the ways our staff comes up with creative ways to secure grants and funds for our students,'' said Superintendent of Schools Stephen Genco. "Funding is tighter than ever and initiatives like this are so important to providing a truly comprehensive program for our kids."
---
See also: Coverage of This Event in the Tri Town News
---