Return to Headlines
Budget Update and A Call to Action: Please Help us Fight to Restore and Preserve Millions in Lost State Aid
Budget Update and A Call to Action:
Please Help us Fight to Restore and Preserve Millions in Lost State Aid
March 14, 2019
Dear Parents and Guardians,
Over the past few months there has been much attention throughout the state on the impact of last year's adopted school funding law. As we explained last year, the Jackson School District lost $1.35 million in state aid for the current budget. We were just notified last week that we are losing an additional $2.2 million in aid for the coming school year. Over the next seven years, this new funding law, known as S2, threatens to cost the district more than $17 million in deserved state aid.
If this multi-year loss continues, it will have a devastating impact on the programs and services we offer to our students. I have been visiting our school faculty meetings and spending time with parents at various Parent Teacher Group meetings and "Coffee with the Principal"' sessions to inform our community about what is happening. Our district is involved in a class action lawsuit alongside other districts in the area and we have been at the forefront of lobbying and communication efforts with lawmakers (e.g. rally at the statehouse last week).
This letter is to share some of the newest information about what is ahead, to walk you through the upcoming district budget process, and to let you know how you can help us in our fight for the funding our children deserve.
For the full background and a detailed timeline of our efforts, please select the image below or visit the Advocating for Our Students page on our district website.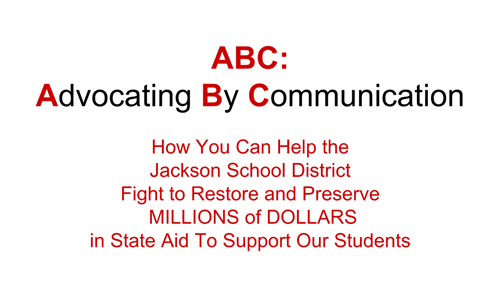 This site includes detailed information on how you can contact our legislators, Senate and Assembly leaders and the Commissioner of Education.
We are asking all of our families to ADVOCATE for our children by contacting these officials to EXPLAIN how these cuts will impact our children.
Below is some key information about what lies ahead:
Last year we lost $1.35 million in aid for the 2018-2019 school year and we had expected to lose the same amount of aid for the budget we are preparing now for the 2019-2020 school year. We found out last week that we are now losing $2.2 million in aid - which is much worse than we expected.

In order to introduce a budget with this reduced aid, the board and administrative team have been working to reduce expenses presented during our recent public "Building a Budget'' sessions. To view those presentations, please visit the Budget and Financial Information Page of the district website.

We will introduce a Tentative Budget at our Board of Education meeting on Tuesday, March 19 at 6:30 p.m. in the administration building. This is not a final budget, but we must introduce at least a tentative plan in accordance with the Department of Education's budget calendar.

We will continue to refine the budget for the next six weeks until the Public Hearing on the Proposed Budget on Tuesday, April 30 at 6:30 p.m. in the Fine Arts Center of Jackson Memorial High School. The full budget will be presented in public and any member of the public is welcome to speak or ask questions.

As we work on the budget for the next six weeks, to make up for the lost aid, we are considering limiting facilities improvements, eliminating new hires to replace retiring staff, making across-the-board reductions to school-based supply budgets, and cancelling the curriculum updates we had planned for social studies and literacy. We will be able to share more specifics at the budget hearing as we finalize a plan.
If you weren't able to join us for a recent parent group meeting, below are some of the issues discussed:
By law, we cannot raise the tax levy by more than 2%, even though costs like health insurance or mandated tuition payments can exceed this level of increase;

Moving forward, S2 could mean a loss of more than $17 million over seven years. This would devastate our programs and services and could results in widespread changes. Although it is impossible at this point to know exactly what the future will bring, my message to parents is this: Unfortunately, nothing will be off the table.

If our aid continues to decrease as this formula predicts, changes for 2021 and beyond could include: increased class size, the elimination of special subjects or electives, the adjustment of busing routes, going back to half-day kindergarten, reducing support for clubs, sports and extra-curricular activities, and eliminating staff.
---
WHY ARE WE PROTESTING THESE CUTS?
Like all towns, our state aid has been frozen for 7 years and all districts have been asked to function under a 2% percent tax levy increase cap.

We are not being funded fairly for our unique transportation costs. For example, Jackson is over 100 square miles and transports 98 percent of our students. We receive $601,355 in Transportation Aid. Meanwhile, Brick Township, with like numbers and not nearly the geographical size of Jackson, receives almost $5 million dollars in Transportation aid.

Jackson has challenges that no current aid category has addressed. For example, Jackson borders Lakewood and non-public transportation payments (aid in lieu) have gone from approximately $200,000 to $1.2 million in the last five years. The aid formula does not address this issue.




Changing demographics require specialized investments that this aid formula does not cover.

This year Jackson had over 500 students register since September and 108 came with an Individualized Educational Program (IEP) in hand. Overall, nearly 18 percent of our student population requires special education programs and services.

Additionally, more than 100 new students are ELL (English Language Learners (ELL, previously known as ESL).

As always, we are committed to our responsibility to provide the best and least restrictive environment for all of our students and to work to meet their individual needs. We maintain multiple and varied programs and services in our district to do just that. However, it is imperative that a funding formula take into consideration changing demographics that requires staff, services and support to meet the needs of our students.




We are asking for the state to re-evaluate this funding formula. We understand that expectation for full funding may not be possible at this moment, but do believe the funding formula can be utilized to fairly fund all school districts in New Jersey over time without creating a system of winners and losers. Modifications are necessary to ensure an equitable, predictable and fairly presented funding model.
We realize this is a great deal of information to take in. Please keep yourself informed by visiting the Budget and Financial Information Page on our website.
We also strongly encourage you to pick up the phone, write and email or write a letter to the Governor, Commissioner of Education and legislators to fight for the funding our students deserve. All contact information, background and details can be found on the Advocating for Our Students section of our website.