Return to Headlines
May 2020 Principal's Message
Dear Holman Families:
Mother's Day is celebrated differently from family to family but the spirit of the day remains the same. We honor that person we call "mom" for being that special person in our lives that sticks with us through thick and thin. My best wishes to all for a Happy Mother's Day. These past two months have been unlike anything that most of us have ever experienced before. I want to thank all of the teachers, students, and parents for all of their hard work during this difficult time. I encourage you to visit the District webpage for all information regarding COVID-19, including remote lesson plans, technology tools that will help parents and students, and support. Also...join us at the start of May for our Virtual Spirit Week.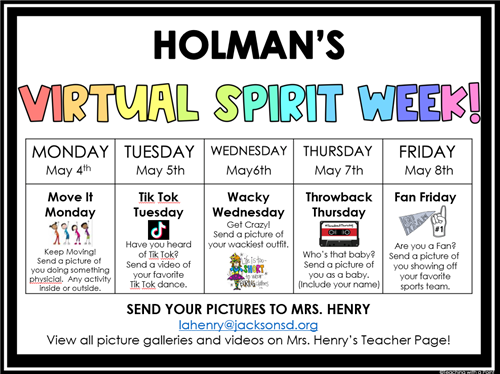 Kindergarten Registration - Postponed Until Further Notice - Use ONLINE Pre-Registration NOW
PLEASE NOTE: During the time schools are closed for COVID-19, it is VERY IMPORTANT that parents ACT NOW to use the ONLINE PRE-REGISTRATION form to get your information into our system. Click here for all information pertaining to Kindergarten registration to enroll your child in the 2020-2021 school year.
Teacher Appreciation Week
Next week is National Teacher Appreciation Week. Teachers have been working very hard during these difficult times to try and move students forward educationally. If you would like, take a moment and have your child write a special message or draw a picture to recognize their teacher.
Message from Ms. DeMatteo, the Holman School nurse
I hope everyone is staying healthy during this difficult time. If your child or someone your child has come in close contact with is sick please email me directly at adematteo@jacksonsd.org. All of the district nurses are working hard to track ANY illnesses within our district to ensure a safe return for when the schools reopen. I hope everyone continues to stay safe and healthy!
Special Area Teachers
Dear Holman Students and Parents of Holman Students,
Please remember to visit your Special Area Teachers' Webpages or Google Classrooms every week. Your Special Area Teachers are creating lessons/assignments for you to work on and it is important for you to complete that work each week.
Students will be graded in these Unified Arts subjects for the 3rd Trimester based on their submission of assigned work to their Special Area Teachers. Check each assignment to see how it is to be submitted (through Google Classroom, by emailing an answer or photograph, or by marking the assignment as done for the teacher).
Remember, your grade in these special subjects depends upon you submitting your work to the teacher.
Here are the links to each Special Area Teacher's webpages:
Mrs. McDonald's World Language Page
Mrs. Keller's Physical Education Page
Mrs. Pfluger's Physical Education Page
Contacting teachers and remote learning work
Please note that the best way to contact teachers is through their email. Click on this link to access a spreadsheet which includes email addresses and links to all teachers' web pages. All teachers will be available for emails, lessons, and Google Hangouts between 8:00am - 1:00pm. Don't forget to visit your child's Special Area Teachers' pages (Physical Education, Technology, Media, World Language, Music, and Art).
Need help with access to your child's Google account?

Click here for assistance

.

For Pearson math assignments….after answering the questions, don't forget to scroll to the bottom of the page and click the "Submit" button to get credit for the assignment.

Students who have a different teacher for math and/or literacy should also check that teacher's classroom webpage for assigned work.

Please continue to keep in touch with your child's teacher(s). A brief email to let them know that you are safe and are working on the assigned lessons is greatly appreciated. They also welcome any questions and concerns that you may have. Continue to turn in all assignments on time to your child's teacher.

**IMPORTANT** If you receive a phone call with the caller ID of "PRIVATE CALLER", please answer as it may be someone from the school trying to speak to you. All district personnel have been instructed to use *67 in order to maintain the confidentiality of their private numbers.
Important Food Service Notices During COVID-19 Closure
Please click on this link to access all information regarding food services during this time.
HOPE Updates
Good news!! HOPE's Annual Plant Sale is normally held the week before Mother's Day and we purchase the majority of our plants for the sale through Cicconi Farms. The Farm has now created an online ordering website where you can still order your hanging baskets, Annuals, Perennials, Vegetable & Herb Plants, Shrubs, Patio Planters and more! Curbside Pickup and Delivery are both offered. Receive 10% off your purchase and an additional 10% will also go back to Holman as a fundraiser! The fundraiser will be running through Friday May 15th. To order please visit https://cicconi-farms.myshopify.com/ and make sure to enter the code HOLMAN-SPRING2020 at checkout.
Voting for the 2020-2021 H.O.P.E. Executive Board will be held on May 20th. All active H.O.P.E. members will be receiving an email early in the day from the nominating committee inviting them to vote. Each family membership is entitled to two votes by both guardians within the household and each Staff Membership is entitled to 1 vote. Votes must be in by the time stated on the ballot in order to be counted. Results will be announced later that night. (Please note that the current Executive Board is not involved in the nominations or the elections. The nominating chairperson will create the ballot for elections and will be the only one that has access to the voting information.)
Make sure to keep an eye out on the HOPE Parent Reminders Facebook Page for information regarding each nominee before the election.
If you are not a current H.O.P.E. member for the 2019-2020 school year and would like a chance to vote in this year's election, please fill out the information and submit payment NO LATER THAN May 5th. Family memberships are $10 each and Teacher memberships for Holman staff only are $5 each. Please click to join: https://my.cheddarup.com/c/hope-2019-2020-membership Keep an eye out on the HOPE Parent Reminders Facebook Page for information regarding each nominee before the election. If you have any questions please email hope@jacksonsd.org
On the Spot Graphics, a local Jackson business, is currently selling School Unity lawn signs for $15 each. They will be making a donation of $2 for each Holman Strong sign back to HOPE. To purchase your lawn sign by May 12th, please visit
https://www.onthespotjackson.com/store/c30/SHOP_ONLINE.html#/
Stay healthy and stay safe.
Sincerely,
Rich Karas
Principal, Holman Elementary