Return to Headlines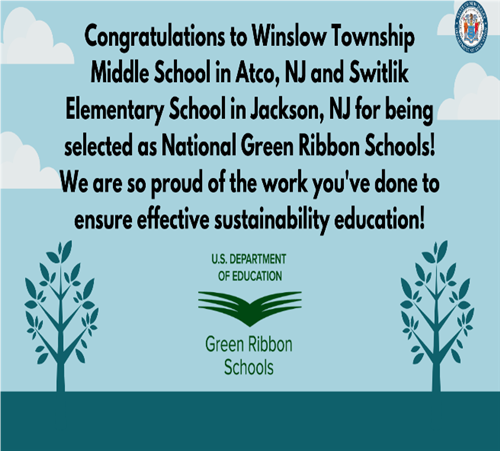 June, 2021
Dear Switlik Families,
It is hard to believe that we are entering the month of June….The end of the school year is quickly approaching. We do hope that you are all staying healthy and safe. Please continue to check our school webpage and review the following reminders and events carefully. If you have any questions, do not hesitate to contact me or your child's teacher.
Fifth Grade End of the Year Events:
Moving Up Ceremony: The Fifth Grade Moving Up Ceremony will be held on Thursday, June 10, 2021 in the Switlik School Gymnasium to celebrate the promotion of all of our fifth grade students (both in-person and full remote). Parents will be invited to attend this special program; however, space is limited to only two (2) guests per family. Only two classes will be recognized at time. Please note that we will be adhering to these rules due to health and safety regulations. Guests will be required to wear a mask and each family group must sit six feet apart from another family group. Thank you for your cooperation. We look forward to recognizing your student's efforts on this special day. Please click here for more information.
JTV will be live broadcasting your child's Moving Up Ceremony on both Cablevision Channel 77 in Jackson and on our YouTube channel which can be found at www.JTVLive.org. DVD's will be for sale on the spot to take home with you for $14.00 each. They will be ready 10-15 minutes after the conclusion of the ceremony at a table just outside.
Fifth Grade Game Day: We are excited to announce that fifth grade students will have the opportunity to participate in some end of the year fun during Fifth Grade Game Day. Fifth Grade Game Day is scheduled for Monday, June 14th, with a rain date of Tuesday, June 15th. It will take place in large spaces outdoors to allow for social distancing. All students attending Game Day voluntarily must adhere to all COVID safety protocols in place which includes social distancing and wearing a face covering. Please click here for more information.
6th Grade Orientation Video: Please click this link Goetz 6th Grade Virtual Orientation to view Mr. Perino's video.
Moving:
If you are moving during the summer and will be transferring your child(ren), please contact the main office Monday through Friday between the hours of 8:00 AM and 4:00 PM. If you are moving within the Jackson School District, you will need to sign an Internal Transfer Form and provide proof of your new residency before your child's records can be transferred. If you are moving out of the Jackson School District, you will need to sign a Student Transfer Verification Form. A transfer card and a copy of your child(ren)'s health records(s) will be provided to register at the new school. The following information is needed to complete the transfer card: new home address, new school name, and the new school address.
Daily Health Screening: We have been successful in receiving a Daily COVID Screening from a majority of our parents. Please continue to complete your child's Daily Health Screening. For those that require a reminder, place a post it note by the coffee pot, refrigerator or set the alarm on your cell phone. We cannot stress enough the importance of parents filling out this form on the Parent Portal each morning that their child attends school in person. It must be filled out 30 minutes prior to your child's arrival at school. Completing the Daily Health Screening will eliminate your child visiting the nurse's office in the morning.
Please read the questions carefully!

The first question is asking if your child has been FEVER-FREE for 24 hours without the help of fever-reducing medication. So the answer to this question if your child is healthy is YES.
If you answer incorrectly, when your child gets sent to the nurse and we call you, we can reset the form for you to answer it correctly.
Parent Pick Up via Carline Dismissal:
Switlik has an average of over 90 families picking up their children each day. We thank you for your flexibility and patience as we adjusted our pick up procedures
Designated Pick Up Area- There will be two car lines (1. K-2 & 2. 3-5) for parent pick up at the end of the day
Families with students in K-2 and 3-5 will follow signs for the carline for K-2.
Additional security will be on hand for the increase in the Carline dismissal
Teachers on duty will be outside greeting each car
Children will be dismissed to their parent/guardian via rolling car line.
ID will be checked Duty Teacher to initial on parents' behalf.
Child will be called to come out via walkie talkie communication to Gym (Holding Area)
Students must wear face coverings at all times.
Face coverings required of all parents in cars while waiting for students.
Students should try to practice social distancing when exiting the building
To assist us, PLEASE
Continue to have your Photo ID visible for staff
Have your last name sign visible to staff on the right side of your dashboard
All parents/guardians are required to wear a mask in the car when picking up their child.
The last day of school for students will be Friday, June 18th.
Sincerely,
Kathleen McKiernan
Principal