Return to Headlines
January 2021 - New Updates as of 1/15/21
Dear Switlik Families,
It's hard to believe we are now in 2021! We hope you had a holiday that is relaxing and filled with memories to cherish. Thank you for your continued support. We are honored to be an integral part of your children's lives. We look forward to watching your children continue to sparkle and shine throughout the New year.
January Update on Synchronous Learning and the Road Ahead
We wanted to provide an update on synchronous learning in our schools, and to lay out the road ahead.
The link will take you to the Reopening Page, which has the presentation in both video and text-only format.
District Extends Color-Coded Calendar Showing In-Person Days Through March IF Necessary
This color-coded calendar shows in-person days through March - IF we need them.
This does not mean the district has committed to the hybrid schedule through March.
We are simply extending the color-coded days for planning purposes in case they are needed.
We remain hopeful that we can return to more in-person learning for all students as soon as possible.
Also, see the full district calendar online.
Elementary Spelling Bee: The Elementary Division will hold their building Spelling Bees beginning January 27. Fourth and fifth grade students have already taken the qualifying test to determine if they are eligible to participate in their School Bees. School Bee Coordinators have contacted the top spellers for participation in their School Bee. Following the School Bees, the six School Champions will then move on to the next level, which is the Scripps Regional Bee, held on March 22, 2021. Due to COVID restrictions and for the safety of our learners, there will not be a district-level Spelling Bee, but the 1st place winners of each school bee will move on to the Scripps event if they wish to participate. Parents/Guardians of the School Champions will be contacted through Scripps about their child's participation in the March 22 event. Thank you for your interest in this event. Good luck to everyone who is participating. If you have any questions, please reach out directly to Dr. Lisa M. Lane, Supervisor of Literacy and ESL (732.833.4600 x5120).
A Note from Ms. Liverani:
Switlik Elemetnary One-Book One-School Information: Starting on January 19th, the students and families of Switlik Elementary will be participating in a "Read the Movie Challenge" as part of the One-Book One-School Reading Initiative. All students and their families will be reading the timeless classic, "Charlotte's Web" by E.B. White and decide for themselves if the book is better than the 2006 movie adaptation. After reading a chapter each night with their families, all students from every grade level will have the opportunity to answer daily trivia questions that will be posted on the Switlik Website and be entered into a daily trivia raffle. Additionally, all students receiving In-Person Instruction have received a copy of the book to read throughout this challenge from their homeroom teachers. All students who are fully synchronous or a part of the Remote Learning Academy have been scheduled to pick up their copies of the book before the challenge begins. If you have not already picked up your book, please be sure to contact the school to make arrangements to come in and pick up your Charlotte's Web. Books will be placed outside on a cart for your convenience.
A Note from Mr. Autenrieth:
Switlik Souper-Bowl: Vote for your favorite team Monday January 25th through Friday, February 5th. Help the Jackson Food Pantry by sending in non-perishable food items such as mac & cheese, peanut butter, cookies, canned goods and soups Staff and students will cast their vote by placing their donation in your favorite team's bin.
Attention all Remote Students: Team boxes will be placed outside the Main Entrance between the hours of 9:30 a.m. - 3:30 p.m. beginning Monday, January 25th- Friday, February 5th in order for you to cast your vote.
From Our PTN: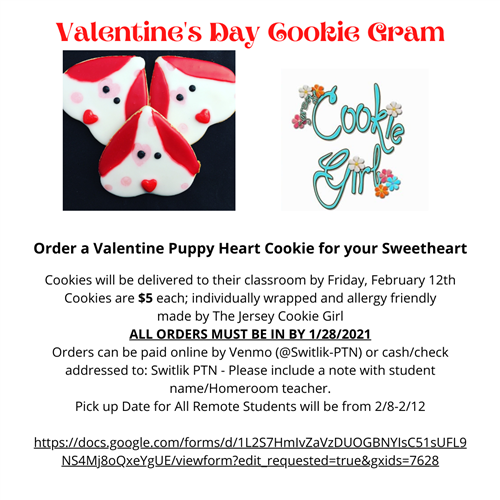 The Switlik PTN is selling individually wrapped Valentine cookies for you to pre-order for your students this year. Please fill out the linked Google Form or send in a note with payment by cash or check made out to Switlik PTN. Please include your student's name and homeroom teacher. We are accepting payment by Venmo (@Switlik-PTN). The cost is $5 per individual cookie. Cookies will be delivered for hybrid students the week of 2/8-2/12 and Remote students may pick up the week of 2/8-2/12 (you will be contacted to arrange pick up). Please contact: PTN.Switlik@gmail.com with any questions.
https://docs.google.com/forms/d/1L2S7HmIvZaVzDUOGBNYIsC51sUFL9NS4Mj8oQxeYgUE/viewform?edit_requested=true&gxids=7628
Cold Weather
As colder weather approaches and winter is upon us, please pay careful attention to your child's attire, as students will continue to go out, weather permitting. Our lost and found grows by leaps and bounds. One of the most "found" items are sweatshirts and coats. Please label any items (coats, gloves, hats, etc.) that your child brings to school, so that we can easily return them.
Please continue to be mindful of the icy conditions around the school when winter weather "blesses" us with challenges. Our district building maintenance do a fantastic job of preparing our school grounds for school; however, there is no way to totally guarantee against blind slippery spots on the sidewalks, as well as in the parking lot.
Report Cards
Please be sure you are ready to access your child's report card on the district portal website. Report cards will be available on the portal to parents on January 5, 2021. Also, please remember that if your Portal log-in does not work, please try the "Forgot My Password" link above BEFORE contacting support, as most issues will be resolved through that feature. Please note that the "Forgot Password" link will work only with parents who have an email as their login ID. For questions or problems with your login ID's or password (or if you do not have them), please send an email to portalsupport@jacksonsd.org and include your name and phone number, as well as your child's name, school, grade, student ID number and the problem you are experiencing and we will respond to you as quickly as possible.
As we begin the New Year, I encourage you to continue to read with your child each evening, now and throughout the year. Time spent reading with young learners has amazing effects on students' educational success.
Thank you all so much for your diligence in keeping your student(s) home when they have been sick and reporting COVID exposures to me. Your efforts have made it possible to provide a safe environment for our faculty, staff and families.
As always, thank you for your continued support. Together we can help shape our children's academic and social growth and development. We must never underestimate the power a home-school connection elicits.
Upcoming Events:
January 18th: School Closed – Martin Luther King Day
February 15th: School Closed - President's Day
March 3rd: Picture Day Re-Takes
Sincerely,
Kathleen McKiernan
Principal